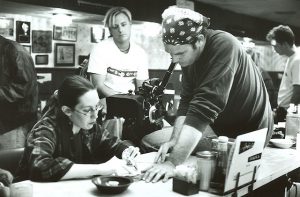 Film is so collaborative… you have to be able to make decisions on what's best for the story and film, not for your ego. The film comes first."

~ Marian Yeager
We are always looking for new collaborators.
Whether you're a writer, producer, crew, or cast — we'd love to chat with you.
Drop us a line!
"There are two words that come to mind when I think about her, dedication and positivity. Marian never gave up on her goal to be a director. Today, all of her hard work has paid off. Marian's ability to tell entertaining stories is only topped by her dedication to her family and friends."

– Alex Herrerra

Production Sound Mixer | "Once A Storm" and "The Good Samaritan"

"[Marian's] leadership kept everyone on task, happy, and willing to go even farther than their jobs required. I've been on many sets, hers was definitely top shelf."

– Brian Thornton

Actor | The Conway Curve

"I have worked...on several projects both as an actor and a production assistant...Their set is always very organized and they communicate well...They care about each person on the set and are always very upbeat and positive...a great asset to any project..."

– Lacy Hall

Actor/Crew | "Blue Suede Wings", "The Good Samaritan", The Conway Curve