MY Productions is a soup-to-nuts production company based in Austin, TX.
We are experienced filmmakers and storytellers with a never give up, never surrender attitude.
We make fun, unique, and meaningful story-centered experiences.

In Development
Contact MY to request access to our current "in-dev" films.
Film is so collaborative…you have to be able to make decisions on what's best for the story and film, not for your ego. The film comes first."
~ Marian Yeager
History
MY Productions was founded by sisters Marian and Elizabeth Yeager. After working separately in the film industry for several years, the sisters decided combined their talents and shared vision for strong cinematic storytelling. In 1998, they began producing short films and music videos -- three of which won several awards.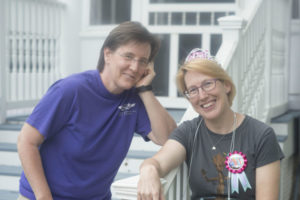 The Yeagers spent a year and half on the film festival circuit with their award-winning short film "Blue Suede Wings" (2007), where it played in 16 film festivals. Their next award-winning short film, "The Good Samaritan"(2013), led to the development and production the feature film The Conway Curve (2017).
In all of their work, the Yeager sisters' dedication and positivity inspired not only their collaborators, but also one another to work harder, improve, and evolve as filmmakers and storytellers. Sadly, The Conway Curve was Elizabeth's last film.
After Elizabeth's passing in 2017, Marian Yeager continues what they started together. Even as the production company grows, increasing its project development work and exploring other narrative mediums, MY's original mission to make "little films with a lot of heart" remains a core principle.

"I want to carry on the memory of Elizabeth and why we created MY Productions: to make amazing stories. We will make Elizabeth proud."
~ Marian Yeager
The Yeager sisters' long-time friend and collaborator Monica Lund joined the MY Productions team in 2017. Monica's skills as a writer, producer, and all-around go-getter are valuable resources in the company's continued commitment to high-quality, story-centric productions.

---