MY Productions is a soup-to-nuts film production company based in Austin, TX. We are experienced filmmakers with a never give up, never surrender attitude. Our goal is to make fun, unique, and meaningful films that leave our audiences feeling fulfilled by the movie experience.

In Development
Contact MY to request access to our current "in-dev" films.
Film is so collaborative…you have to be able to make decisions on what's best for the story and film, not for your ego. The film comes first."
~ Marian Yeager
History
MY Productions was founded by sisters Marian and Elizabeth Yeager. The sisters had worked separately in the industry since 1993 in various crew positions. Starting in 1998, they began producing short films and music videos, three of which became award winners.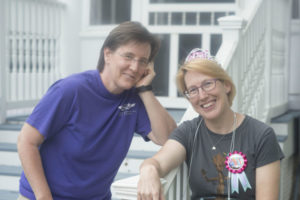 They spent a year and half on the film festival circuit with their award-winning short film "Blue Suede Wings", where it played in 16 film festivals. This success was closely followed by another award-winning short, "The Good Samaritan". Which lead directly into them developing and producing their first feature film The Conway Curve.
The Yeager sisters inspired each other to work harder, be better, and evolved in to very knowledgeable filmmakers. Unfortunately, The Conway Curve was Elizabeth's last film with MY Productions. But with her passing, Marian is determined to continue what they started and make her sister proud.
To continue down the road she and sister began together almost 20 years ago, Marian invited their very good friend and go getter Monica Lund to join the team. They are looking forward to making beautiful films together that will carry on the memory of Elizabeth and what MY Productions was created for, to make little films with a lot of heart and amazing stories. They won't stop until the job is finished.
---