Hey guys,
I know I have been a very bad friend and haven't blog or vlog for such a very long time. Sorry about that. Life kind of got in the way. With things like an amazing 7 week trip to Israel and the unexpected loss of my wonderfully amazing sister Elizabeth things kind of just stopped here. But it's time to start moving again, otherwise, Elizabeth will come and kick my booty. She would never want me to just fold up the tents here at our MY and definitely wouldn't want me to stop chasing my dream…so we are pulling up our bootstraps and getting busy. Here's what's on the horizon for MY.
Update: 7/31/17
Theater Screenings!
You can catch Conway at select theaters.
Visit Facebook for more info.
A Theater Near You…
Become a Tugg promoter and host your very own screening of Conway at a theater near you!
Learn More

The Conway Curve
is finally getting its domestic release. It will be launched off with a week long LA theater run. (
Date to be announced very soon
). It will begin with a red carpet event. Then following that will be the VOD release (
we will keep you posted where you will be able to see it online
) along with the VOD release there will also be Tugg screenings throughout Texas. Beginning in Elizabeth's and my hometown of Midland, Texas. (
Date to be announcement soon.
) As dates come available we will post here and on our Facebook page. So please keep your eyes peeled.
With the Tugg screenings anyone can bring Conway to their hometown by hosting a screening. If you would like to see Conway and show it to your friends and family and community then come join the team. Email me at (hello@my-productions.com) and we can discuss what it is to host (become a promoter) a screening. It's actually pretty easy peasy.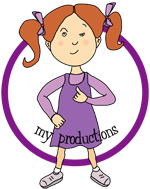 Aside from
Conway
's US release, MY is getting re-organized. Throughout the summer we will be revamping MY's website. Cleaning it up and adding a lot more info about upcoming projects in development. Also a very good friend is joining the team.
Please welcome Monica Lund to MY
. She will be working as a producer on many of our new projects we are currently developing. You'll be able to get to know her a little better once the website is up and running. But maybe I could persuade her to guest blog one of these days.
And finally with all of this change going on it was time to update our business model. Instead of working on one project and having a release every 3 or 4 years. We have created a wonderful slate of mostly genre projects. We are still in the early stages of the process. We have signed with 2 writers so far and have 2 more we are in talks with. Hopefully very soon we can announce them and the projects they will be developing for us. Can't wait.
As all of these things have started to come together it has gotten quite exciting and busy around here. We are so looking forward to introducing you to our new team of writers and our future projects. Elizabeth would be so proud and probably telling us it was about time.
Have a great day today and we'll speak again soon.
~ Marian